Sydney Penny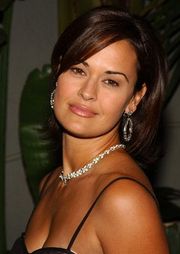 Sydney Margaret Penny was born in Nashville, Tennessee, August 7th, 1971. She is married to the artist Robert L. Powers, since 1995.
Sydney comes from an artists' family with a father who is an actor and guitarist and a mother who is a singer. She might have Cherokee origins. She is only three and a half years old when she goes up on stage for the first time: avoiding the surveillance of her big sister (she has two sisters and two brothers, all older), she uses the intermission of her parent's show to tell stories to the public!
[edit]
Television
She grows up in Los Angeles where she follows, among other, drama and dance courses and where she discovers the joy of horse-riding and skating. Her career really starts with an advertising for the dolls Dancerella: Sydney is then six years old. She then shoots many ads for such prestigious brands like Barbie or McDonald's...
She gets her first role on television in 1978, in a Ron Howard TV film, Through the Magic Pyramid. Then the TV films succeeds one another and at 10 years old she is kept for Meggie's child role working beside Richard Chamberlain in The Thorn Birds, where she wins her first reward.
In 1983, she exchanges her first on-stage kiss with Rick Schröder in the TV film Two Kinds of Love.
[edit]
Cinema
It is in 1985 that she passes for the first time at the cinema. She interprets Megan Wheeler, the girl who falls under the spell of the pastor, in Pale Rider directed by Clint Eastwood. And she earns her second prize for best young actress...
While following her studies, Sydney adds up roles. In 1987, she represents Bernadette Soubirous in Bernadette, the film of Jean Delannoy, which she turns in English and in French, learning its text for it phonetically because, at that time she doesn't speak French! She also turns a continuation in 1989, The passion of Bernadette, only in French this time. In 1988, she shoots under the direction of Dino Risi La Ciociara, a remake of The peasant woman with the bare feet, with Sophia Loren. The professionalism and the talent of the star marks Sydney...
In 1992, Sydney makes her first appearance in Santa Barbara. Her role of BJ Walker is worth enough to be nominated at the Emmy Awards.
Then she installs herself in New York and, from 1993 till 1996, she plays in another American soap, All my Children, for whom she is again nominated.
In 1995, she goes back up on stage for the first time since her childhood and represents Cecily in Oscar Wilde's play, The Importance of Being Earnest.
[edit]
Largo Winch
Back in Los Angeles, she then shoots in several independent productions before returning to television and launching herself into the Largo Winch adventure where she inteprets CIA ex-agent Joy Arden. For the role she learned kickboxing, martial arts and practised the handling of various weapon.
[edit]
After Largo Winch
In August, 2003, she was hired as Samantha Kelly in The Bold and the Beautiful. The character was never popular and Penny was relegated to a recurrent role at the end of 2004.
Sydney went back to television in a Warner Bros TV series, Hyperion Bay, created by the author of Thirtysomething, Joe Dougherty, followed by a recurrent role as Jolie Oliver, a cocaine dependent baby kidnapper in Beverly Hills 90210.
Penny played in the TV film Hidden Places, the history of a woman struggling to keep her orange grove during the Big Depression, for which she won a CAMIE Award. (Character and Morality in Entertainment).
Sydney went back to play in All My Children, and took back her popular role for three more years in 2005 which she left in May, 2008 at the end of Julia. Meanwhile she served at the National Academy of Television Arts and Sciences.
Her plans for recent films include The Wish List for the Hallmark Channel and Little Red Wagon, a film about Zach Bonner, directed by David Anspaugh.
Sydney has read many audiobooks for the Ignatius Press, including St Joan, written by Mark Twain.
[edit]
Hobbies
Sydney is an energetic young woman who practices martial arts, kick-boxing, surfing, swimming, yoga and devotes herself readily to gardening and to cooking when she doesn't enjoy a good old classical film.